Introduction 
  "I still remember when I found your profile in the box." The words of Vladica, the organizer of "Cooks in Residence," took my breath away. It was a few days after I arrived at Novi Sad, the second largest city in the Republic of Serbia. "Wow! What did I write on it?" 
  As I recall, my memories, ears can catch up with the fast English of Europeans, but not my mouth. I left behind that question I should have asked him under what circumstances he found it and what part of that profile was so impressive. If I get a chance to see Vladica again, I'll ask him. 
 "Cooks in Residence" is the chef's version of Artist-in-Residence. Chefs invited by Novi Sad developed the menu during our stay. What impressed me in my interactions with the local people was the power of Japanese food. Many Serbs who visit Japan describe "DASHI" as a memory of the scent. Of course, "SUSHI" is the language of the world. I brought a new sushi recipe for this occasion. I found some sushi restaurants in Novi Sad and found that the image of "SUSHI" was slightly different from ours. So, I gave up because it was difficult to complete the applicable sushi menu in one week with locally sourced ingredients. Meanwhile, local chef Dušan said tempura was on the menu. With TERIYAKI written in romaji and recipes with hand-drawn illustrations on the names of Japan ingredients, we were able to communicate instantly.
About the European Capital of Culture
 After returning to Japan, the photo date of the applicant profile box found on the computer was February 2018.It was a few months ago that I heard about the European Capital of Culture. It has been a cultural project in Europe since 1983, with several cities designated by the EU holding intensive cultural events over the course of a year with artists and organizers from all over Europe. In 1993, a Japan committee was also established, and Japan began to participate. 
 In 2021, the city of Novi Sad in Serbia will be the venue, so why not register as an artist? I received an introduction from an acquaintance. My honest feeling at that time was, "Well, I'm a cook., Isn't that a matter for the society to which artists and entertainers belong?" I heard that there had never been a chef registered before. But I was glad to be approached, and "gastronomy" is part of the culture.  I thought that I would be lucky if I was connected to something, so I wrote an English profile and went to the presentation. I never dreamed that I would be embarrassed by myself for not remembering what I wrote in Novi Sad four years later. 
  I also participated in presentations and networking events held in Tokyo in the autumn of that year. In 2019, I also had the opportunity to cater, and I was able to get to know the people of Novi Sad 2021 who came to Japan.
 When did I know that Novi Sad2021 had been postponed to the following year due to the pandemic that spread around the world from 2020?" How are the Serbs I met in Tokyo and my friends who are planning to join Serbia from Japan. Are they doing well?" I was thinking about it at a time when people were refraining from unnecessary and non-urgent outings. At that time, I was studying myself about Serbian wine, as all schedules had disappeared.
Cooks in Residence
・E-mail from Novi Sad
 I received an email from Vladica from "Novi Sad 2022" in the spring of 2021, before the Olympics began. They were planning a "gastronomy" program and asked me if I would participate if I was invited. It was more than I expected, so I was worried about fraud at first. I replied to the yes on the condition that if I could travel from Japan in August 2022, I would not expect too much.  The military situation in Ukraine has been added to the unpredictable pandemic.  It was more than a year of wondering whether to go or not. 
・Arraival at Novi Sad
  Even if I continue to watch the situation like this, it would not be clear. I prepared for the worst and ready to accept my fate. Landing at Belgrade Airport on the night of August 8,2022, I got in the car that picked me up and headed straight for Novi Sad. 
  The next day, chef Anne Faber arrived from Luxembourg. We had two missions. The first is to re-examine traditional Vojvodina cuisine from our own national point of view and create menus that are attractive to consumers in Serbia and other countries. One of them should be a vegetarian menu. The second mission was to cook those menus with local chefs and have them tasted in presentations to the public. kalendar.novisad2022.rs
 The schedule is tight. From the day we arrived, we continued to eat traditional dishes at a local restaurant。If I take broth with local ingredients and cook rice in a Serbian clay pot, won't it be something delicious? I had been thinking about recipe plans since I was in Japan, but as we had many meetings, I strongly felt the difference between the image of "sushi" held by people overseas and our sushi. I didn't even have time to teach cooking.  Considering the labor and cost of cooking for many people, I gave up. I switched my mind and managed to come up with two menus for the fourth day. I handed the recipe to the local chef, Dušan, and asked him to purchase and prepare the ingredients. Will guests come? I contacted a friend or acquaintance living in Serbia. I felt like I was praying, and the day of the announcement on Sunday the 14th came.
・Cooks in Residence Presentation
 The presentation was held at the Egiseg Cultural Center (Kulturna stanica Eđšeg) in the city on the 14th. In Novi Sad at 45 degrees north latitude, summer days are long and 8 o'clock at night is still bright.
  Preparations took longer than planned, and we arrived a little late for the start time. There were already a lot of customers at the hall. More than we expected!
  I showed the recipe to the captain of the catering company who was already preparing and instructed him. The position of the food would be in this order. We decided who would serve which dish.
 I explained the presentation platter to the local chef Dušan, who cooked for the day. I wanted to show off my dishes in this lacquered wooden box that I had brought with me from Japan.
  Anne and I decided to arrange the speech. Let's make it short so that we do not make guest wait too long in front of the food.
Here we go!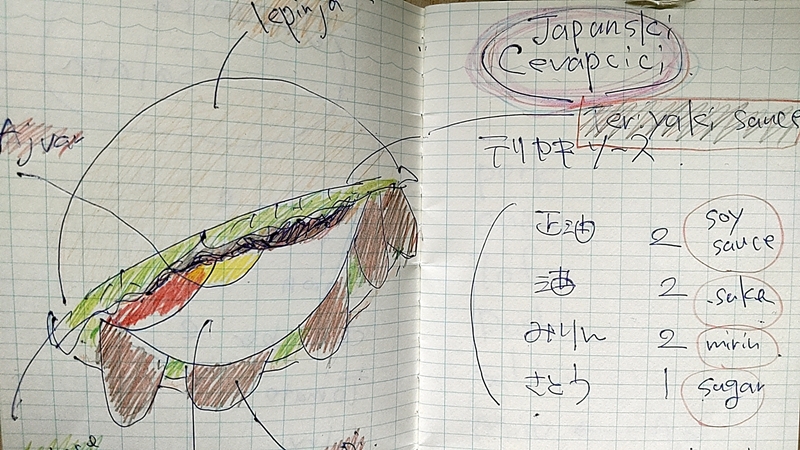 Anne's dishes were sarma with Luxembourgish mustard wine sauce and dumplings with poppyseed sauce and cinnamon-scented plums.
   While my dishes were made into "Balkan Bento" with lacquered wooden boxes brought from Japan. Inside, I packed two dishes: "Japanski Cevapi" with teriyaki sauce and poached eggs, and "Šopska Tempura" which inspired by Šopska salata.
 There were many guests who talked to me in the Japanese, and I felt the gratitude of the pro-Japan country. Thank you to everyone who posted information on SNS or invited friends to come. It seems that more than 100 customers visited.
 A commemorative photo with Anne Farber, with whom I spent a week. The star of the field of gastronomy and TV in Luxembourg was a lovely woman who was friendly and talented. 
  This is a video summarizing the program for August at "Novi Sad2022". Shortly after the video begins, you can see a short introduction to the Cooks in Residence presentation. Please find a lacquered wooden box of "Balkan Bento" on the garden party table. 
Photo: Vladimir Veličković
Novi Sad Restaurant map 
  To you, who love to eat as much as I do. I will introduce the restaurant of Novi Sad that I ate and walked around during this stay. Restaurants visited by word of mouth are recommended by local friends and acquaintances. It was delicious everywhere as reputed. Most Serbian restaurants have terrace seating, and most people eat outside. However, Wifi can only be accessed indoors, so if you want to use the internet, please check with the staff. 
  Access to each store can be seen from the map pasted on each restaurant.  You can see a map covering restaurants and markets from this link (*). 
 As of 2022, this is the infection prevention situation that we are concerned about. In Serbia, guests carried wet tissues and alcohol to wipe their hands or wash their hands thoroughly before eating. There was a poster next to the sink for hand washing, and the soap was always refilled. I feel the global rise in public health.
・Restaurant Sokace
  A long-established traditional dish. The interior is a typical kafana decoration. There is also live band music. Cozy and comfortable. A restaurant I would like to visit often if it is nearby.
・Restaurant Cafe Veliki
  A restaurant serving both traditional dishes from the Vojvodina region and modern flavors such as vegetarian menus.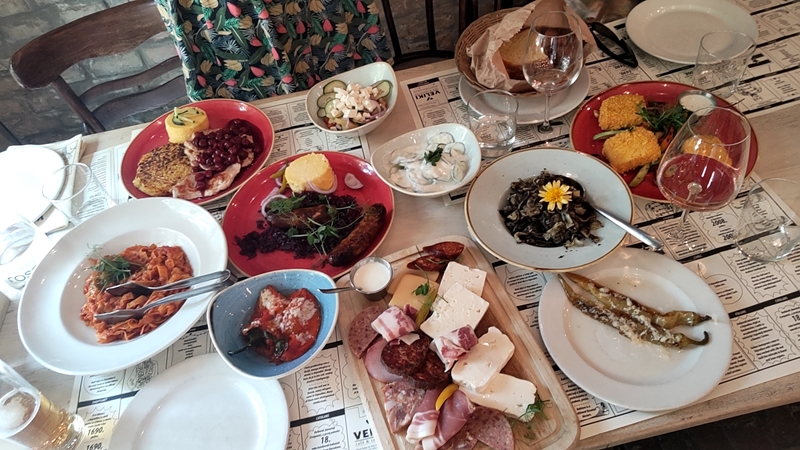 ・Plava Fralja
  Popular local eateries near the Danube River. I was finally able to order Karađorđeva šnicla which I could not found other restaurants.
・Zeppelin cafe-brod restoran
  A restaurant converted from a boat floating on the Danube. You can have a meal while seeing the Petrovaradin Fortress. The grilled fish in the river and the white wines from Vršac are very good.
・Restaurant Cika Pero
  You can enjoy traditional "Quite light healthy meal", but this means a self-deprecating expression of Serbs. Japan people need to check the volume when ordering. If you are a Japanese, it is better to check with the staff the amount of food on one plate when ordering. 
・Sarajevski Ćevap kod Dakca
  It is a Sarajevo style cevapi shop, has several branches and is 100% beef. Kajmak can be offered with options。
・Sarajevski ćevap kod Dakca CENTAR
  Located in the City Center, another store of Saraievo style cevap. We ordered a platter of pljeskavica and sausages. The white wines from Sremski Karlovz are also good.
・PUBeraj
  We had daily meetings here and the café was the base of our activities. The photo shows a pita bread sandwich named "Bruce Lee" recommended by the owner. The thinly sliced meat was lightly sautéed with oriental seasonings, reminding me of the Japan rice burger.
・Rekalibracija - veganski restoran
  My vegetarian friend's favorite place is takeout near the entrance of Futoška Market. Sidewalk terrace seating with falafel and tofu burger
・Garden Pizza & Salad Bar
  I was invited to a birthday party held at a nice pizza place. Italian cuisine is also popular in Serbia.
・Vremeplov
  A famous pastry shop recommended by many people. My stomach was full, so I asked for Bajadera, and there were four for each person! 
Novi Sad Green Market map
  Of course, there are supermarkets, but if you want to buy fresh food, go to the green market first. Producers sell their harvested goods face-to-face and sell out in the early afternoon, so it is better to shop in the morning.
・Futoška pijaca
  It wasn't far from the hotel where I was staying, and I went to the market almost every day. From food to daily necessities, there are small shops lined up.
・Riblja pijaca
  The most recommended market by the local Novi Sad2022 staff. It is called a fish market in Serbian, but it is mostly vegetables and meat, and I did not see a fishmonger. Why the Fish Market? I asked Vladica. He told me that the name once called when fishing on the Danube was flourishing remains intact.
・Limanska pijaca
  The largest market among the three. Anne's favorite. With a wide variety of items including daily necessities, I got lost.
 Thank you for reading until the end. That's it for the Cooks in Residence report. There are many other episodes that I couldn't write, such as reuniting with friends I met in Tokyo, but that will be another article.
Related article:
  I was serving until the end of the presentation, so I couldn't take pictures of Anne's dishes. You can see her menu on Anne's official Instagram ↓. 
"Hanami" was very helpful with the announcement.  
  Serbia is a country full of surprises with many aspects. Why don't you visit and discover the charm of Serbia?
I look forward to seeing you all.